CV Boot Protection
---
I use my 2009 Ranger XP 700 in the woods of PA and have replaced all the CV Boots. Sticks of all sizes have speared and destroyed them. Those little plastic shields offer no protection...even if the sticks have not torn them off. My full skid plate (fabricated from aluminum truck bed) works fine and could have additional brush and stick guards welded to it, but I cannot figure out CV boot protection that is adequate while still not interfering with the wheels, tires, and arms. Advice greatly appreciated.
I like the thunderhawk brand for cv guards,In my opinion the fit a quality is perfect.
Also they designed them to work with lifts and extended axles.
here are the guards I built for my '13 800XP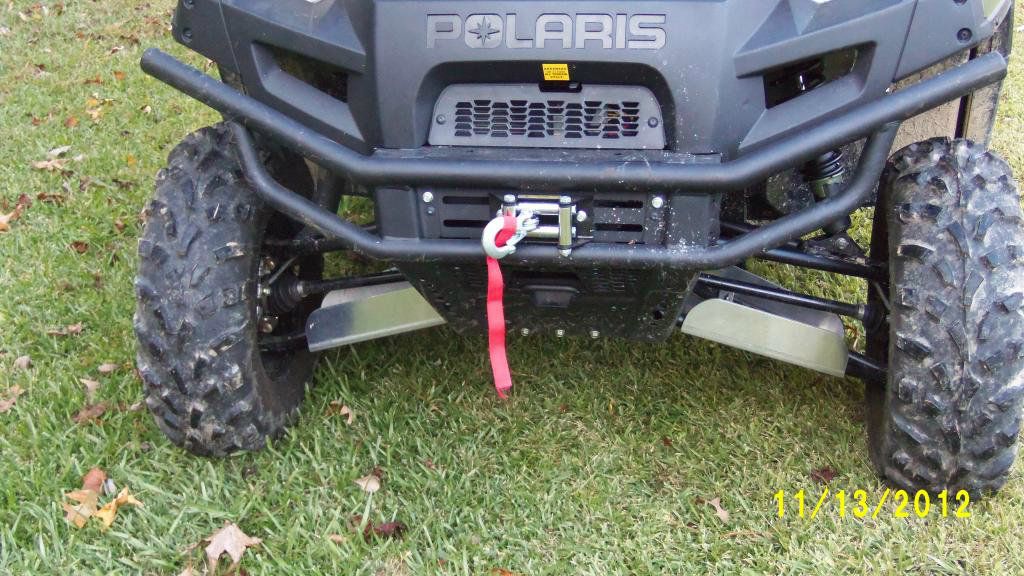 Sticks
---
I think sticks could still get the the boots,I may be wrong but looks tu me they need to be a little taller. Again they look great but how we'll will they keep the sticks out?
CV Boot Protection
---
Rambo75: Nice looking boots, how about a few details. I spend most of my time in the woods and sticks are an issue, CV boots ands brake lines need more protection. How did you manage to upload the pictures, am have no joy with it.
I could have made them a little taller but after having them on for some time now I don't think it would help protect the boots much more. The only problem I'm having is all the trash build up in the A-arms because the bottoms are solid, I my try doing a little modification to them.

I use photobucket.com as my photo host sight.
Thanks I was wondering about the height and I suppose that there is always a downside (clean out) Did you use the same size screws? I'll try photobucket for pictures. I have been trying a straight upload.
the guards are held in place with 1/4" X 1" flat bar that sandwiches the A-arms.
Great idea and nice work
---
2011 Pearl White Crew 800 XP
Lift, 15" wheels, super swamper truck tires, probox, HIDs
Lower Navigation
CV Boot Protection
Posting Rules

You may not post new threads

You may not post replies

You may not post attachments

You may not edit your posts

---

HTML code is Off

---